FlyFishing in Tokyo!?!
There are beautiful mountain streams only few hours drive from central Tokyo.
Some of them are good for fly fishing for Yamame ( land locked Cherry Salmon ), Iwana ( Char ) and Rainbow trout. Yamame and Iwana are not big, just size for three weight flyrod, but these Japanese native species are extremely beautiful like a jewel. Good fishing season is from Spring to Autumn ( April to September ). There are some trout fishing parks around Tokyo that stock many trout. This is a good alternative for off season, winter time fishing.
Why donft you have a unique fly fishing experience in Tokyo?
Mr.Leonard Schoenberger, Founder & Editor of The Wading List enjoyed flyfishing with us and wrote an article about flyfishing in Japan. We hope you enjoy it.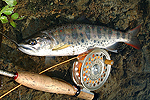 Guide Rate
JPY 47,000
for one person per day
JPY 59,000
for two people per day
* Rental waders and wading shoes cost JPY3,000/set.
* Please ask, more than three people join.
* Included: guide, transfer, rental fishing tackles, fishing license, lunch and soft drink.
* There are some nice mountain lodges for multi day trip. Please ask for the details.
Please contact us at least a week before your fishing day to arrange the best guide for you!
English speaking guides are very limited in Japan!

Check out our Client's Reports . . . . . Please Contact Us Now. e-Mail . . . . . Back to Top Page
TROUT&KING Fishing Tours
7-12-4-6F Ginza, Chuo-ku Tokyo, 104-0061 Japan / Tel : +81-3-3544-5251 / Fax : +81-3-3544-5532
www.troutandking.com/eng/ . . . . . e-Mail